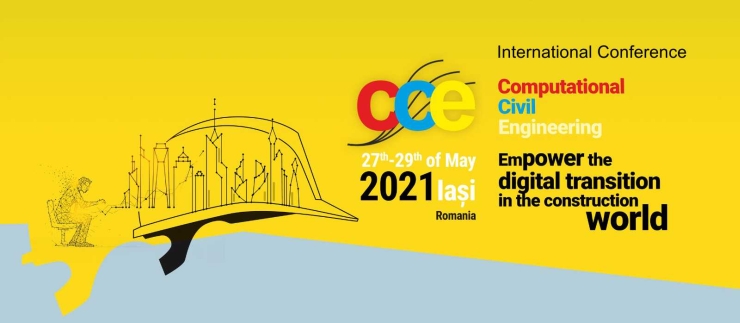 May 27th-29th 2021, on-line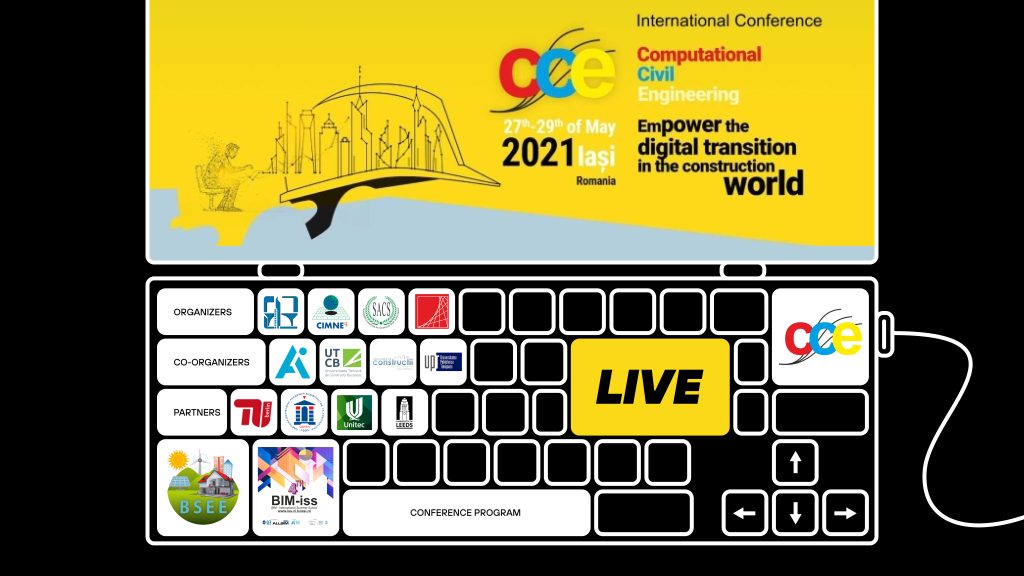 CCE 2021 Conference Program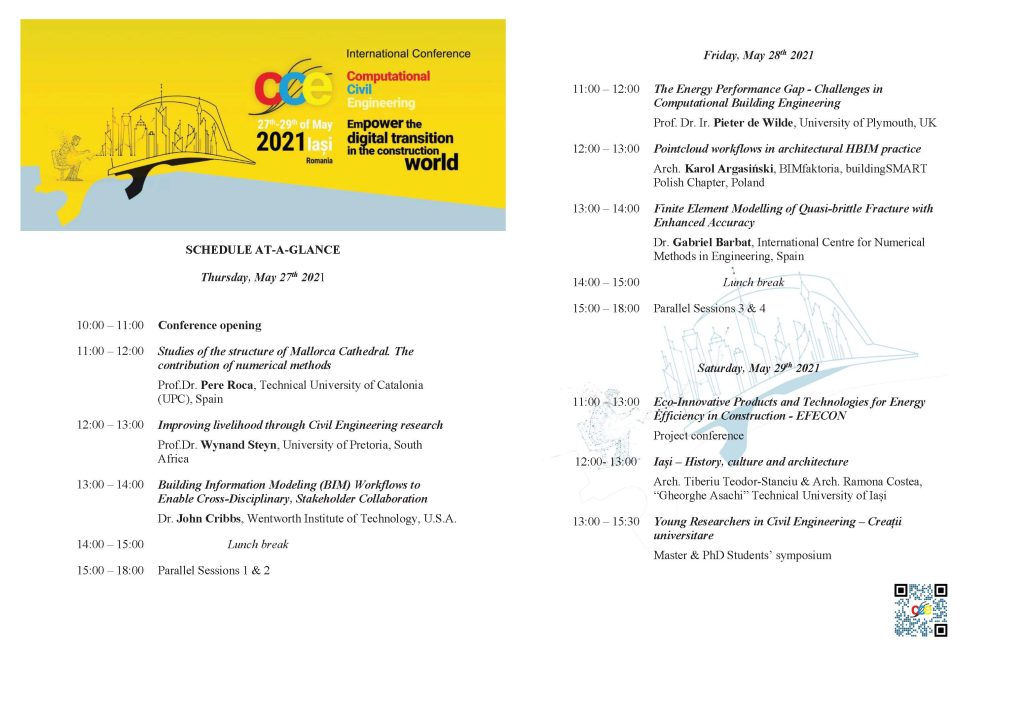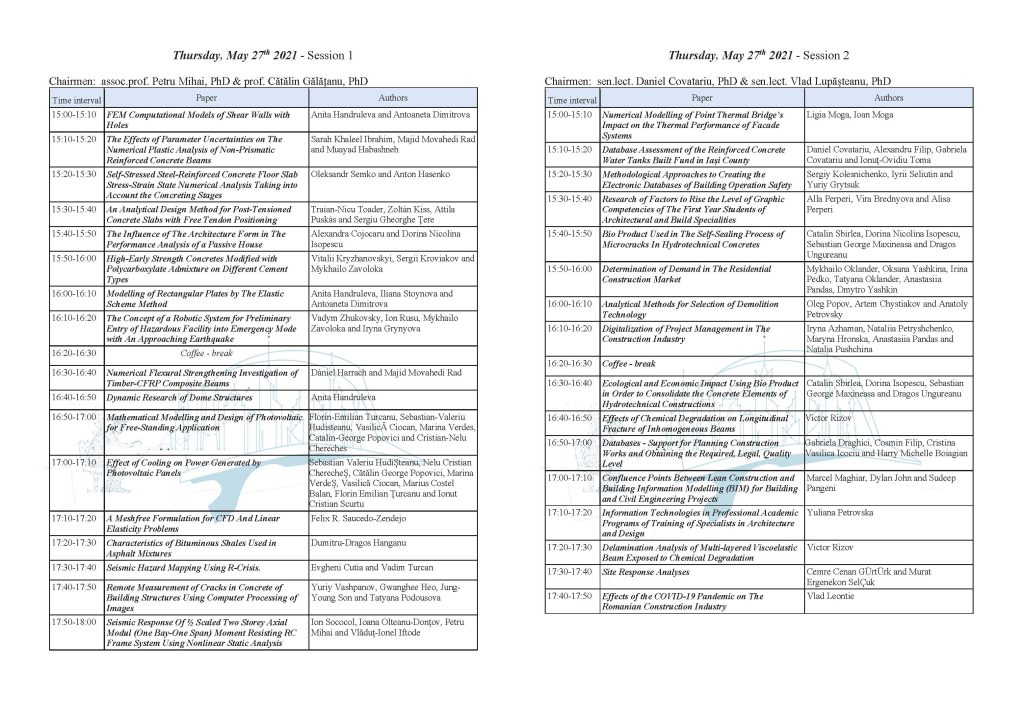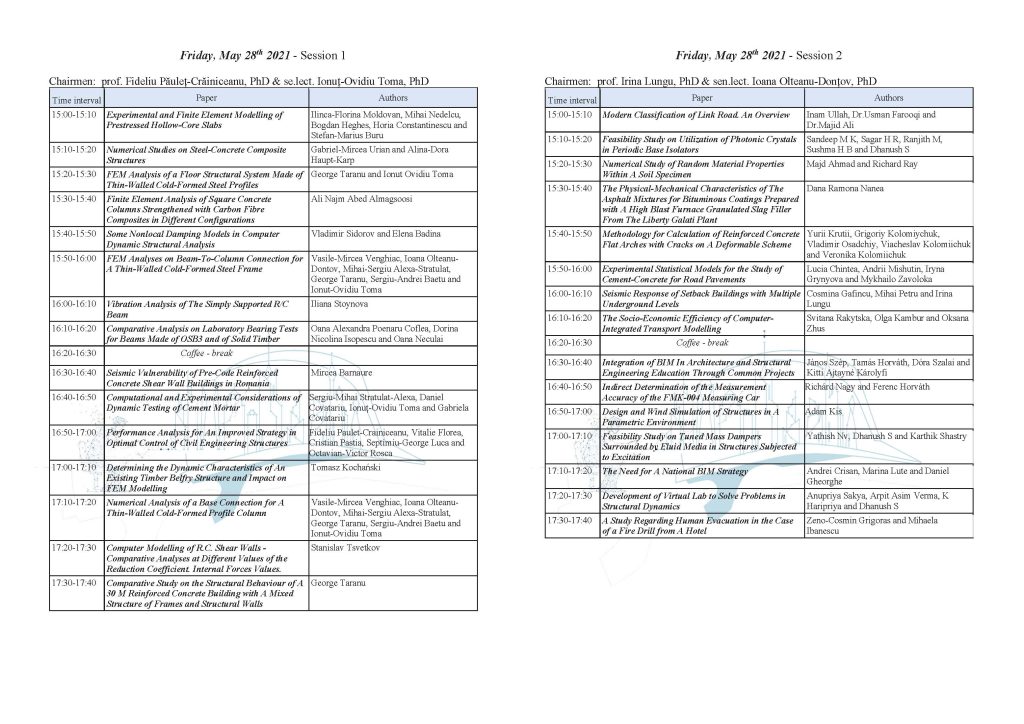 Keynote Speakers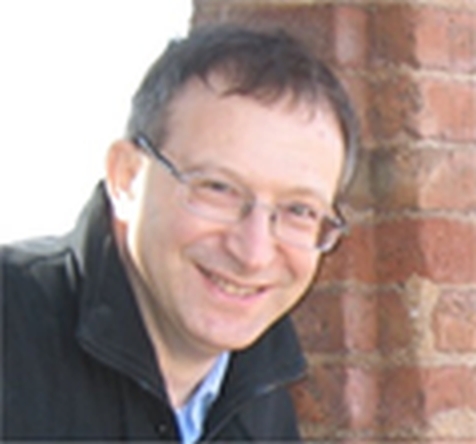 Pere Roca is Professor at the School of Civil Engineering of Barcelona in the Technical University of Catalonia (UPC) since 2000, where he carries out his activity as lecturer, researcher and consultant on building structures. His research is oriented to structural analysis techniques, experimental analysis, structural monitoring, seismic evaluation, and strengthening techniques with focus on existing structures. A significant part of his research effort has been devoted to the development of criteria and tools for the conservation and restoration of monuments and historical structures. He is an active member of the ICOMOS International Scientific Committee on Analysis and Restoration of Structures of Architectural Heritage (ISCARSAH), which he chaired during 2005-2008. He is lecturer in the Advanced Masters on Structural Analysis of Monuments and Historical Constructions (SAHC). He is co-editor of the International Journal of Architectural Heritage since 2007 and co-advisor of the Conference Series on Structural Analysis of Historical Constructions. He has been consultant in over 100 case studies on existing and historical structures,
including Romanesque and Gothic churches and cathedrals, medieval bridges and Modernist buildings.
He has collaborated in the study of 9 UNESCO World Heritage buildings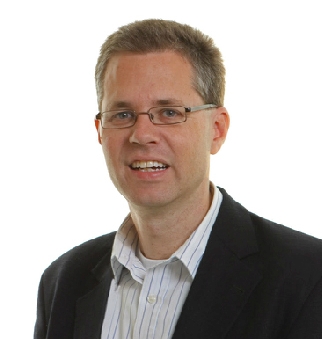 CEng, FIBPSA, FCIBSE, MASHRAE, FHEA, VDI
Professor Pieter de Wilde holds a chair in Building Performance Analysis at the University of Plymouth in the UK. He is an expert in building science, with a focus on thermal aspects. His main research emphasis is on thermal building performance simulation, and its use in the building services and engineering community. He also has an interest in building performance monitoring in their actual day-to-day context which enables critical reflection on the validity of computational results, and their meaning in building operation and facility management practice. This is embedded in a wide interest that covers all aspects of building performance.
Within this wider context, Prof de Wilde is recognized for his work on the 'energy performance gap': the mismatch between predicted and measured building energy efficiency. His paper in Automation in Construction from 2014 on the subject has been cited over 680 times. He is the author of Building Performance Analysis, the major book on the subject published by Wiley in 2018.
Prof de Wilde is the recipient of the IBPSA Outstanding Young Contributor Award 2003,
and held a Royal Academy of Engineering Senior Research Fellowship 2012-2013.
He is director at large and secretary of the International Building Performance Simulation Association (IBPSA) and chair of the European Group for Intelligent Computing in Engineering (EG-ICE).
He sits on the editorial board of the academic journals Advanced Engineering Informatics, Applied Energy and the Journal of Building Performance Simulation. He has published over 240 publication.
Prof de Wilde has been a member of the Engineering and Physical Sciences Research Council (EPSRC)
Peer Review College since 2017. He is the manager of the MSc High Performance Buildings at Plymouth,
which he set up in 2016 and which is fully accredited by the Chartered Institution of Building Services Engineers (CIBSE).
Dr. John Cribbs is currently the Associate Dean of the School of Management and an Assistant Professor of Construction Management at Wentworth Institute of Technology, in Boston, MA. Dr. Cribbs earned his MArch degree from the Herberger Institute of Design and the Arts and his Ph.D. in Construction Management from the Del E. Webb School of Construction (currently the #1 school for Construction Management in the U.S.), both located within Arizona State University's flagship campus located in Tempe, AZ (#1 University for innovation in the U.S. according to U.S. News & World Report). His research focuses on modular design and construction techniques, sustainability of the built environment and more specifically, Building Information Modeling (BIM) workflows for enhanced quality control and labor time utilization for coordinated MEP and specialty trade equipment, from design-to-install, in retrofit environments. Before joining Wentworth, Dr. Cribbs served as a Principal at Green Ideas Building Science Consultants, based in Phoenix where he regularly engaged in BIM workflows for design analysis, reporting and review with the full spectrum of project stakeholders.
During his tenure with Green Ideas Building Science Consultants, he worked with clients such as PayPal, Garmin, and General Motors. He has also taught both undergraduate and graduate level courses in design, construction management and Building Information Modeling at Arizona State University and the Frank Lloyd Wright School of Architecture (Taliesin West). Outside of the classroom, he is engaged with the Associated General Contractors of America (AGC), Massachusetts Chapter's, Virtual Design and Construction Group. Dr. Cribbs has presented on both the national and international stages discussing topics related to modular and offsite construction techniques, BIM and other data-centric design/construction workflows, pedagogical models for training the future of the construction industry and research specific findings that are scalable to the industry at large.
He is a Leadership in Energy and Environmental Design (LEED) Accredited Professional (AP) in the Building Design and
Construction (BD+C), Interior Design and Construction (ID+C) and Operations and Maintenance (O+M) specialties.
Additionally, he holds an accreditation with the Construction Specifications Institute (CSI), as a Construction Documents
Technologist (CDT)
Prof Wynand Steyn is Head of Department and professor of the Department of Civil Engineering, and Chair of the School of Engineering at the University of Pretoria. He is a professionally registered pavement engineer with a research interest in vehicle-pavement interaction, accelerated pavement testing, pavement engineering, pavement materials, Civiltronics and instrumentation. He completed both his undergraduate and graduate studies at the University of Pretoria, South Africa. He has authored, co-authored and edited 41 journal papers, 21 book chapters (author / co-author / editor) and 109 conference papers. He is Associate Editor of the International Journal for Pavement Engineering and the International Journal of Pavement Research and Technology, and has a B3 National Research Foundation (NRF) rating. He is a Fellow of the South African Institution of Civil Engineers, Fellow of the South African Academy of Engineering (SAAE) and an adjunct professor at the Chang'an University in Xian, and the Shandong Jianzhu University in Jinan, China.
Has a B.Arch. by Andrzej Frycz Modrzewski Krakow University, going-to-be Msc. Arch on Warsaw University of Technology (WUT) conducted on International ASK program (Architecture for Society of Knowledge). Interested in heritage, he is also enhancing his knowledge in Heritage Architecture on Arts Faculty at Torun's University. Interested in BIM, specifically in openBIM methodology, he is an active member of buildingSMART Polish Chapter.
Karol is the founder of BIMfaktoria, where he works with companies in the field of laser scanning, consulting and teaching in openBIM methodology. He is also the sole partner of PointCab GmbH in Poland. Karol is also an active GRAPHISOFT Certified BIM Manager and ArchiCAD Professional. Through his experience, he develop and actively teach software techniques, supervising BIM procedures as BIM Consultant.
Karol is also an active lecturer at ZIGURAT Global Institute of Technology, where he shares his experience and knowledge in the field of openBIM and its implementation, standardization of CDE platforms, IT systems and more.
He is a Co-Editor in BIMe for Polish version of BIM Dictionary, as a part of BIMe community.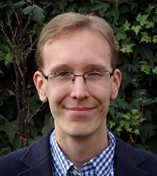 Dr. Gabriel Barbat is a Civil Engineer and researcher at the International Centre for Numerical Methods in Engineering (CIMNE) and associate lecturer at the Technical University of Catalonia (UPC). His current research lines are the numerical modeling of quasi-brittle cracking, strain localization, computational solid mechanics with enhanced accuracy, mixed finite elements and nonlinear constitutive laws for monotonic and cyclic situations. The applications of his research include the study of the behavior of masonry buildings, of fracture in concrete members and structures and of structural size effect. He also works in the finite element simulation of thermo-mechanical problems and industrial manufacturing processes, including highly nonlinear analyses in the incompressible limit.
Flashback
Sponsors