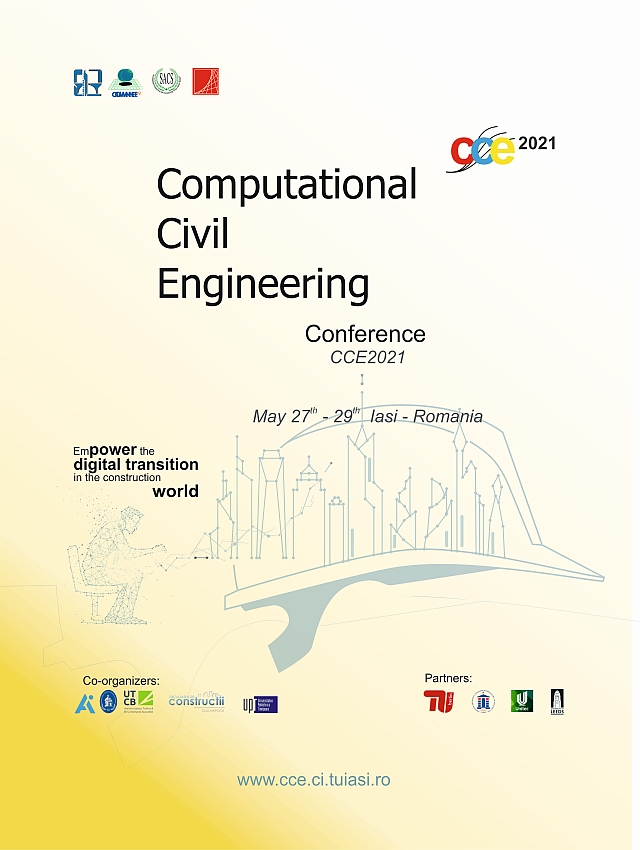 You can find the CCE2021 proceedings here
We are looking forward for you to the next edition in 2023!!!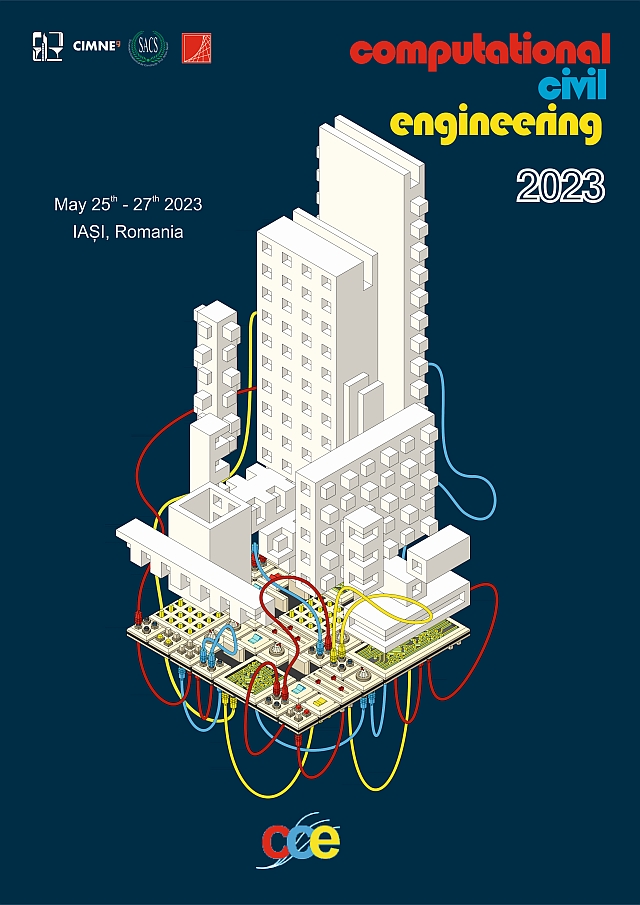 The digitalisation determines a high level of increasing productivity in any domain that was applied before. Digital transformations in Civil Engineering are thriving today on gaining precedent to traditionally dedicated computation to construction design. The needs for the remote control of the construction process to meet quality exigencies, budget constraints, and duration, for balancing risk evaluation and risk mitigation, for new accuracy levels in predicting soil-structure interaction in every unique environment, for sustainability and circular economy viable in the construction sector require a multiverse approach in our Conference – Computational Civil Engineering CCE2021.
This year more than ever, we become open to all issues addressing the future of our profession as civil engineers, architects, structural engineers, MEP engineers a.s.o. Specialization in knowledge by following the separation of interests is falling apart in the world where connectivity is available for everyone. The subjects of interest for this conference may look singular items on the list, still they belong to each construction and the key ingredient is team work and the shared value is cooperation.
The pandemic, climatic and economic crises are converging to trigger a massive competition to find answers and fierce determination to share knowledge and forge alliances between all stakeholders in the construction sector. We invite architects, engineers with interests in material, constructions, chemical, computer, energy, building services, management, and economy domains to join this conference with their scientific contributions and competence on 27th-29th May 2021, in Iasi – Romania.
The conference will be organized in both ways: classical (on-site) and virtually (on-line), but depending on the evolution of the global situation, it is possible to translate the entire CCE 2021 conference virtually.
Topics
Computer Aided Design and Engineering
Software for Civil Engineering
Computer Aided Training
Computational Methods in Civil Engineering
Civil Engineering Database
Computer-Assisted Management in Civil Engineering
Numerical Analyses of Civil Engineering Structures
Computational Fluid Dynamics
The event became traditional and was organized mainly, by the Faculty of Civil Engineering and Building Services, Iasi and "Matei Teiu-Botez" Academic Society.
Over time we have had partners such as the Spanish Association for Earthquake Engineering or The International Center for Numerical Methods in Engineering (CIMNE) – Technical University of Catalonia Barcelona, Spain, with whom we have tried to present the latest ideas developed in research and development in the field of construction Before 2015, the symposium has been held annually, but in 2016 was decided that the conference to be held every 2 years.

The papers will be published in
IOP Conference Series: Materials Science and Engineering

They will be sent to be indexed in Scopus, EI Compendex, Inspec, CPC-I.